Coeur d'Alene is called the "wonderland" and "the Lucerne of America" for a reason. Coeur d'Alene is a resort town set among the forests and lakes of northern Idaho. It's hard to beat this idyllic locale for laid-back family vacations or romantic getaways. 
It is a perfect place for year-round outdoor recreation and entertainment with miles of scenic shoreline, a vibrant downtown shopping and dining district, and a rich history that includes logging, mining, and agriculture. Summer is generally a great time to explore new places and what better place to do that than in Coeur d'Alene, Idaho. 
There are so many great attractions to check out in this wonderful town and we've put together a list of the top ten. From the bustling downtown area to the stunning lakeside setting, there's something for everyone in Coeur d'Alene. 
So, if you're looking for a fun and exciting summer, winter, or weekend destination, be sure to add Coeur d'Alene to your list! 
1.     Coeur d'Alene Lakefront
Do you love spending time outdoors surrounded by natural beauty? Picture this: you're sitting on the dock of a beautiful, clear lake, the sun shining down on you. In the distance, you see the majestic Rocky Mountains, and the cool breeze blowing through the trees makes you feel refreshed and alive. You have the perfect view of the lake, and it's simply breathtaking. This is what you can experience at Coeur d'Alene Lakefront, a stunning location that is perfect for a summer getaway.
You'll love spending time at the Coeur d'Alene Lakefront. This 3,000-acre park offers stunning views of the lake and surrounding mountains, as well as plenty of activities to keep you busy. The lakefront is a great place to spend a summer day with family and friends. 
Lake Coeur d'Alene is a well-known tourist destination that offers plenty of recreational activities. Hike or bike the miles of trails, paddle the placid waters or enjoy a picnic by the shore. Maybe even bring a yoga mat. Whatever your preference, the Coeur d'Alene Lakefront is sure to please. The views of the mountains and the lake are stunning and there is plenty of room to spread out and enjoy the day. 
A visit to Coeur d'Alene won't leave you wanting for things to do: visitors can snag coffee, go fishing, tour museums, and even go horseback riding. The lakefront also has a playground, restaurants with delicious food choices, and authentic stores to go shopping.
2. Chill in Downtown Coeur d'Alene
Downtown Coeur d'Alene is one of the most beautiful and happening attractions in the Pacific Northwest! With its charming shops, restaurants, and galleries, it's no wonder this area is a popular tourist destination. If you're looking for a charming small-town atmosphere with all the conveniences of a much larger city, look no further than Downtown Coeur d'Alene. This vibrant district is full of one-of-a-kind boutiques, galleries, and restaurants, as well as plenty of opportunities for outdoor recreation. 
Whether you're skiing at nearby Schweitzer Mountain Resort or paddle boarding on Lake Coeur d'Alene, you're sure to have a great time in Downtown Coeur d'Alene. The lakefront setting is also a major draw, and there's always something new to see and do in this vibrant community. The heart of the city, downtown Coeur d'Alene is home to an eclectic mix of businesses, restaurants, and cultural attractions. 
With its pedestrian-friendly streets and stunning lakefront setting, downtown Coeur d'Alene is a must-visit destination for anyone exploring the Inland Northwest. If you're looking for a fun day or night out, be sure to check out Downtown Coeur d'Alene!
3. Spend time in Farragut State Park and Cherry Hill Park
Farragut State Park, located on the south end of Lake Pend Oreille, has a 40+ mile trail system and offers a variety of recreational opportunities such as camping, hiking, biking, boating, swimming, fishing, disc golfing, wildlife viewing, and more. The park is an ideal starting point for exploring the surrounding region or visiting the nearby theme park. Cross-country skiing on groomed trails with distances up to 10 kilometers is popular in the winter. Do not miss snowshoeing and sledding winter activities during your visit.
Which was once a World War II naval training facility, now offers camping with 223 individual sites, 10 camping cottages, and 7 group camps. Hikers, bikers, and horseback riders enjoy the park's miles of trails. Lake aficionados can also find plenty of boat launching and swimming opportunities in areas like Beaver Bay Beach, as well as one of the top camping spots in Idaho.
Cherry Hill Park, located northeast of downtown on the other side of Interstate-90, is another beautiful open area. Several park facilities, including a leash-free dog park and BMX track. The outside facility also includes a popular 18-hole disc golf course. There are also tennis and pickleball courts.
Cherry Hill Park is also a popular winter destination. The huge hill close to the parking lot attracts sledding and other family-friendly winter activities. Expect crowds of multi-colored sleds to shoot down the hill after any snowfall in Coeur d'Alene.
Cherry Hill Park's playground sections are also a popular feature. The playground, which is shaped like a giant firefighter's helmet, has been designated as a 9/11 Memorial Playground. The park's surrounding Fallen Heroes Plaza has explanatory material and tributes to fallen heroes from Idaho.
4. Go Hiking on Tubb hills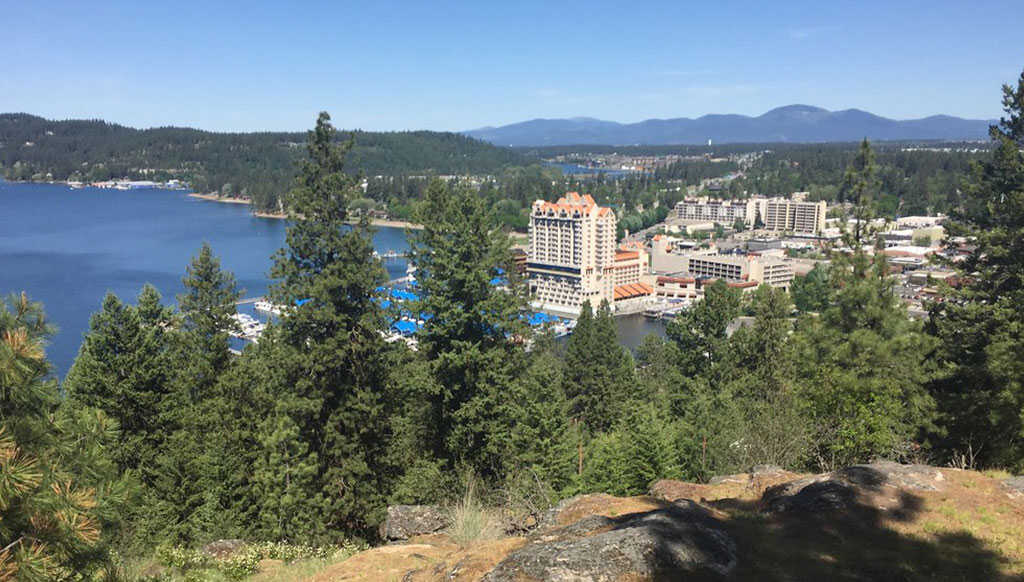 If you love hiking, you will love the Tubb Hills! This beautiful hiking trail is located in the heart of the Ozark Mountains and offers stunning views of the surrounding area. The Tubb Hills is a small, but insta worthy range of hills in Coeur d'Alene. There are several excellent hiking trails in the area, offering beautiful views of the surrounding countryside. The hills are also home to a variety of wildlife, including deer, raccoons, and squirrels. 
The trail is 12 miles long and is considered to be moderately difficult, so it is perfect for hikers of all experience levels. Make sure to bring plenty of water and snacks, as there are no food or drink options available along the trail. Tubbs Hill is a 3.2-kilometer regularly traveled circle path near Coeur d'Alene, Idaho that includes a lake and is suitable for hikers of all ability levels. From May to October, the trail is primarily used for hiking, walking, running, and fishing. This trail is also accessible to dogs.
5. Bike around the trails of North Coeur d'Alene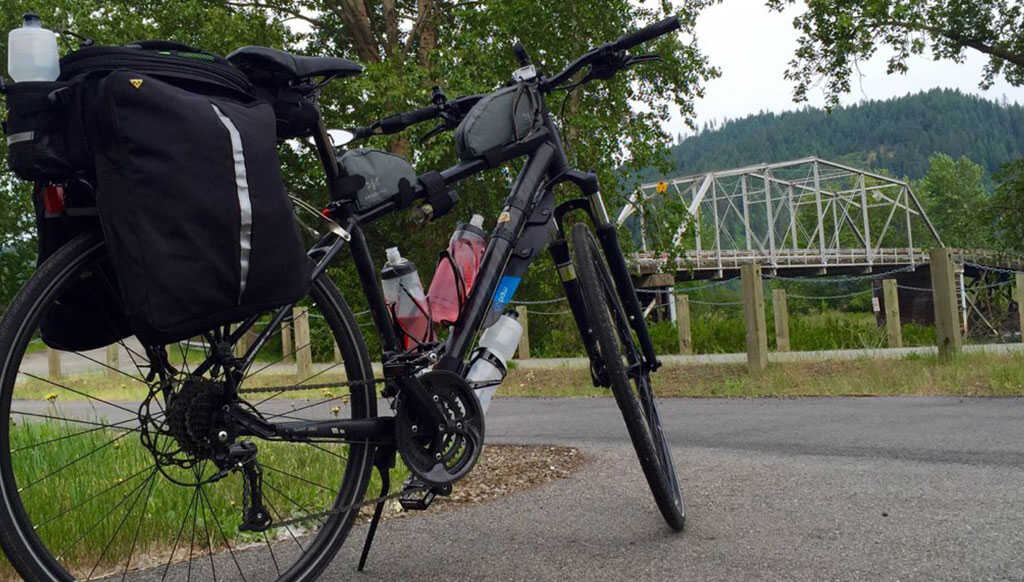 Grab your helmet if you're looking for the best way to see North Idaho! The North Idaho Centennial Trail is the greatest tour guide just outside The Coeur d'Alene Resort's doors. The Centennial Trail, which stretches 23 miles from the Idaho/Washington state line to Higgins Point on Lake Coeur d'Alene, allows walkers, joggers, and bikers to explore the region.
The Coeur d'Alene Resort, located in the heart of downtown Coeur d'Alene, is the ideal starting point for biking the Centennial Trail. Whether you bring your bikes or rent them in town, the trail system is straightforward to utilize. Cyclists should bring their bikes because Coeur d'Alene is a bike-friendly community. If you want to hire a bike, go visit Coeur d'Alene Bike Co., which is situated at 314 N. Third St. There are four-hour, full-day, and multi-day rentals available; cycle styles include road and mountain bikes, electric-assist cycles, and even twin bikes!
The Coeur d Alene resort is located at the trail's center. It's a great place to start a ride — head east for eight miles to Higgins Point, or west for 15 miles to the Washington state line. There are different paths for joggers and bikers.
6. Hike in the Panhandle National Forest
If you're looking for a place to hike that's close to home, the Panhandle National Forest is a great option. With more than 5 million acres of forest land, there's plenty of room to explore. The forest is home to a variety of wildlife, including deer, elk, and black bears. There are also plenty of trails to choose from, so you can find the perfect one for your skill level and interests. 
The Panhandle National Forest is a beautiful place to hike and explore. The scenery is breathtaking, and there are plenty of opportunities to see wildlife. Hiking is a great way to get exercise and enjoy nature. I highly recommend a hike in the Panhandle National Forest to anyone looking for a great outdoor experience!
7. Cherry Hill Park
Cherry Hill Park is another one of the beautiful attractions in Coeur d'Alene, Idaho, that is perfect for a recreational retreat. Sitting a little towards the northeast of Downtown, this pet-friendly and the leash-free park is ideal for you if you travel with your fur friends.
Cherry Hill Park is known for its playground shaped like a giant firefighter's helmet. This park is also a 9/11 Memorial Playground with a Fallen Heroes Plaza surrounding it. The Plaza displays in-depth information and tributes to fallen heroes from Idaho.
Not only that, but the park is also home to a well-groomed BMX track, an 18-hole disc golf course, and tennis and pickleball courts. These activities certainly make summers in Idaho fun and exciting. 
If you are traveling to the resort town during the winter season, don't get disappointed. Cherry Hill Park turns into a magical white land as the snow starts falling. This family-friendly park attracts those looking to indulge in snow activities like sledding. When you visit during the winter, you will witness tons of families in their multi-colored sleds sliding down the hill, making it a sight to behold. 
8. Silver Mountain Resort
If you are visiting Idaho with your family, Silver Mountain Resort should be at the top of your must-visit list. Silver Mountain Resort is a Ski resort sitting in the northern region of Idaho. 
While it might be a ski resort, it has much more to offer to its guests. Silver Mountain Resort is well-renowned for providing tourists with something to do all year round. 
Being a ski resort, it surely has plenty of exhilarating winter activities that tourists can try. These include skiing, tubing, snowboarding, and snowshoeing. 
As the summer hits, the ski resort turns into a green wonderland for those looking to get closer to nature. Summers in Silver Mountain Resort is ideal for mountain biking, hiking to Kellogg Peak, playing some mountain golf, or simply splashing around in the indoor water park filled with slides. 
Additionally, if you are looking for a laid-back vacation, you can try out the scenic gondola ride and witness the beauty of northern Idaho from a bird's-eye view. The resort also offers more activities for kids, such as outdoor movie nights, singalongs, game nights, smores by the fire, and so much more. 
Think of this resort as a summer camp for all ages. If you are coming with the little babies, you don't have to worry about not being able to enjoy to the fullest. The resort offers daycare facilities for kids, keeping them engaged in fun activities while you make your summer (or winter) memories with your partners. 
9. Coeur d'Alene Cellars
For those who truly appreciate and enjoy a glass of good wine with character and finesse, a visit to this nearly two-decades-old winery might not be such a bad idea. 
Coeur d'Alene Cellars is a top-rated winery-production house in Idaho and a popular spot for locals and tourists alike. This winery houses tasting rooms for those looking to get their hands on some of the best wines Coeur d'Alene Cellars has produced. From Chardonnay to Merlot, their exclusive collection will leave you spoilt for choice. 
Along with different wines, this winery serves charcuterie boards filled with some of the most delectable and authentic snacks you have ever tasted. 
Not only this, to ensure you have a complete experience, this winery also offers live performances, club events, paint nights, and winemaking activities, making the tour more magical. 
10. Eat and Drink Your Way Around the City
Looking for a unique and fun way to explore a new city? Why not try eating and drinking your way around it! Coeur d'Alene, Idaho is the perfect place for food and drink lovers. With a mix of trendy restaurants and local pubs, there's something for everyone. There's no need to travel far from home to discover new flavors and cultures – Coeur d'Alene, Idaho is home to a variety of delicious eats and drinks! Whether you're looking for a quick snack or a full meal, you'll find something to tantalize your taste buds. Here are just a few of the culinary highlights you can explore in Coeur d'Alene:
·         Head to the beach for a bite of fresh seafood at one of the local restaurants.
·         Sample some international cuisine at one of the city's many ethnic restaurants. 
·         Indulge in a cup of locally roasted coffee or a glass of handcrafted beer. 
·         Take a food tour to experience the best of what the city has to offer.
No matter what you're in the mood for, Coeur d'Alene has something to satisfy your taste buds. Get out there and explore – you won't be disappointed! Here are a few of our favorite places to eat and drink in Coeur d'Alene. Start your day at The Daily Grind, a local coffee shop that offers a wide variety of coffee drinks and pastries. 
Next, head to Mojos for a delicious lunch. This restaurant features a wide selection of tacos, burritos, and bowls, as well as a full bar. In the evening, head to the Iron Horse for a pint of local beer. This pub is known for its hearty food menu and live music performances. And for a sweet treat, stop by The Scoop for a cone of locally-made ice cream. So what are you waiting for?
11. McEuen Park
One of the finest marvels that stands on the banks of Lake Coeur d'Alene, McEuen Park is a must-visit for people of all ages. McEuen Park is built on a sprawling 20 acres of land with a truckload of activities for kids and adults alike.
12. Enjoy the Weather at Coeur d'Alene City Park
From beaches to picnic shelters and volleyball and basketball courts, Coeur d'Alene City Park is a unique tourist attraction. Starting with the Fort Sherman Playground, spread across 14,000 sq ft with a dedicated play area for kids. Swings, small slides, climbing towers, and balancing beams will keep your kid busy all day.
13. Heyburn State Park
One of the oldest parks in Idaho, Heyburn State Park, came into existence in 1908. Situated at the southernmost tip of Coeur d'Alene Lake, it has the gorgeous trail of Coeur d'Alene and a bike path stretching over 72 miles to Wallace. It's as wide as 8000 acres with 70+ cottages and cabins.
Conclusion 
Coeur d'Alene, located in north-central Idaho, is a location that is sometimes neglected by visitors arriving and leaving from Seattle or other regions of the American West. Because of its remote position, going to Coeur d'Alene might feel like an adventure in and of itself, albeit it isn't very difficult. Most visitors fly into neighboring Spokane, WA, and hire a car for the 30-mile journey between the two towns, however, others choose to drive the 300 miles from Seattle. Travelers could alternatively fly into Missoula, MT, and drive 2.5 hours from there, albeit no major airlines fly directly into Cd'A.
Apart from the picturesque scenic beauty, Coeur d'Alene, Idaho is a sparsely populated city but has a lot to offer visitors, including exquisite food, local culture, and, of course, lots of outdoor sports. With that in mind, hope these recommendations of the best ten attractions will keep you excited yet relaxed in Coeur d'Alene. Hope to see you here soon.
FAQ'S