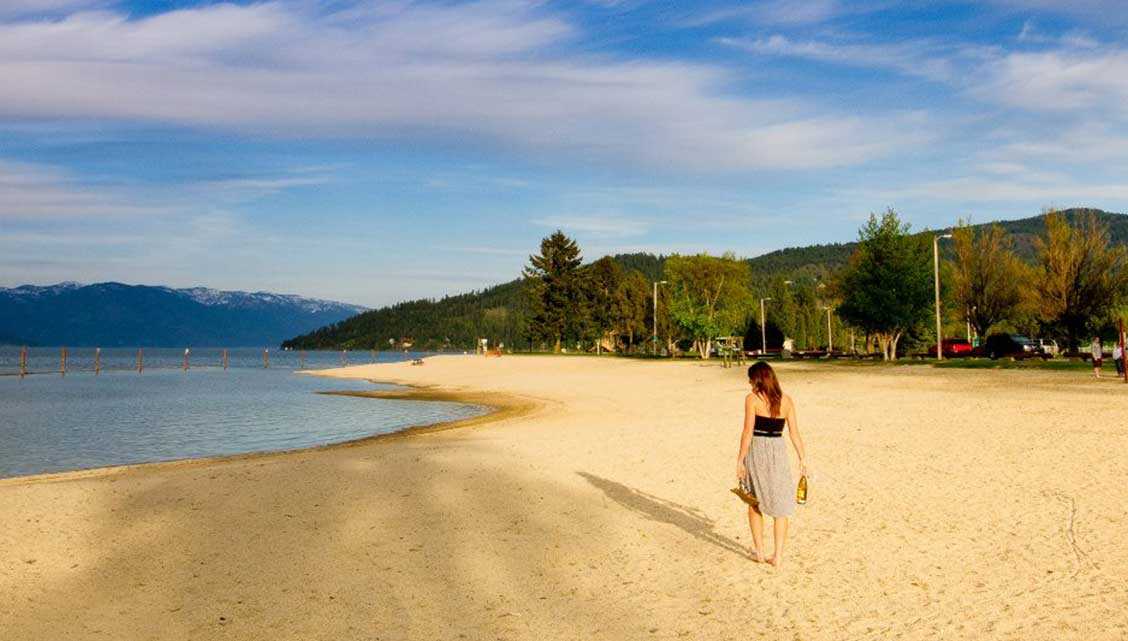 Sandpoint is one of the most beautiful parts of Idaho and offers a long list of things to do.
This city has a population of 8,000+ people and has an authentic feel to it that is impossible to ignore. Whether it is the greenery or the classy people, everything about this homely city appeals to those who want something different than a traditional urban environment.
For those taking the time to come to Sandpoint, it's time to start with the basics. This includes figuring out what you are going to do when you are in the city.
Here are some of the most important things to do in Sandpoint when looking to have a bit of fun. 
Pend Oreille Scenic Byway
When it comes to one of the most beautiful parts of the region, it is time to head over to Lake Pend Oreille. The shoreline is a breathtaking sight and one that is going to blow you away as the sun begins to rise or set. It is an experience that is quite memorable.
You can drive along the shoreline, taking in the sights that are in front of you. It is a great way to start your trip and just get a feel for the authenticity of this beautiful part of Idaho. There aren't too many scenic spots like this one in the nation, but it stands out the most.
Sandpoint City Beach Park
For those who want to have a picnic and just enjoy the good weather in Sandpoint, it's time to look at the Sandpoint City Beach Park.
This is a quaint beach park that is located in a beautiful part of the city. The 22-acres of land offers a little bit of everything, including crisp water with gorgeous sand.
It is an experience that you are going to fall in love with as soon as you settle in. On a warm day, this is a good place to enjoy your free time.
Sandpoint Shopping District
Want to go out for a bit of shopping during your free time in Sandpoint?
This is where the Sandpoint Shopping District comes into the equation as an entertaining spot to be. You are going to enjoy all that comes along with it and it is going to be an experience that is great for anyone visiting.
There is great food, quality shops, and just a fun-loving community everywhere you go in this part of the city. You will get a real feel for the people here, and it is going to make you smile from ear to ear.
Schweitzer Mountain Resort
The mountain is commonly visited during the colder months.
It's normal for people to want to head up to the mountain and hike or do a bit of skiing. If this is the case, you will want to look at what the Schweitzer mountain is all about. It is a fun place to be, and you are going to enjoy it all.
You can also head up to the resort for a little while if you want to immerse yourself in the mountainous experience and views. It depends on the person, but it is a tremendous sight once you get there.
Mountain Horse Adventures
For those who love riding horses and want to be near the mountains, it is recommended to enjoy these adventures.
Mountain Horse Adventures is set up in Schweitzer Village and is quite the experience. It tends to run during the end of summer and early fall. You will want to head over and go through the area with the help of a trusted guide.
The reason it is unique has to do with looking through the area on a horse. It is a fascinating way to move around and will allow you to remember the visuals in a far different manner.
Cedar Street Bridge Public Market
Some architectural designs will blow you away, and one of them has to do with the Cedar Street Bridge Public Market.
It is a remarkable structure due to how the shops are set up in the market. You have it set up on a wooden bridge that stands out from afar and is going to draw you in. Just take the time to walk around and experience something special in its own way.
 The people are great, and you get to visit shops that are different from the rest. It is a must when it comes to public markets.
Bird Aviation and Invention Center
Those who are lovers of aircraft will know this is a must-see in Sandpoint.
The Bird Aviation and Invention Center was crafted as a way to honor the contributions of aviators in the past. This is a detailed look into the world of aviators and how it all connects to the region.
You can spend time with the family going through the different tours and learning more about aviation history. It will draw you in, and there are several displays and classrooms to help you immerse yourself in history. 
They go all out to showcase what makes aviation special.
Hike Scotchman's Peak
Scotchman Peak is spread across 8+ miles and is quite the trail to hike on. You will see all sorts of things on this trail, and during the summer months, it is a joy to behold.
You will enjoy the greenery, wildlife, and all that comes along with being in this part of Idaho. Just hiking here is going to give you experiences that might not be found anywhere else. It is one of the most natural parts of the region and one that you are going to want to hike in. 
Fishing at Lake Pend Oreille
Lake Pend Oreille is large and one of the most well-known parts of the region.
This means you are always going to be near the shoreline looking at the natural beauty. However, there is a lot more at play than just sightseeing when you are nearby. 
You can also look to set up shop for a bit of fishing. There are quite a few fish swimming around that tend to be easy to catch during the warmer months. You will often see professionals and avid fishing enthusiasts spend their time on the lake to catch fish.
Join in on the fun and experience a new way to make most of your time in Sandpoint.
Panida Theater
This movie house has been around since the 1920s and is historic for a lot of reasons. It continues to run to this day and offers a slew of performances that you can enjoy when you are in the city.
It's common for arts performances and foreign movies to be played in the theater. If you head in during the day, you will have a chance to enjoy one of these performances too. Buy the tickets and make the most of your time in this theater.
It will be far different from going to a modern theater due to its architectural details. 
Pick Huckleberries
Huckleberries tend to grow in this part of Idaho, and you can pick them too.
If you head up to Schweitzer Mountain, it is possible to pick huckleberries all around the area. This is one of the first details you are going to notice about the region.
Gold Hill Trail
Spread across a 3+ mile trail, this is gorgeous during the warmer months.
You can walk up to a delightful climb that helps you look at the Selkirk Mountains in the background. It is a unique visual compared to some of the other spots near the lake.
Ice Cream in Downtown Sandpoint
Ice cream is something Sandpoint is known for.  
You will want to head over to the Panhandle Cone & Coffee and enjoy the amazing ice cream. It will be a wonderful way to walk around and just pick out a good flavor to consume for fun. The best part is you will also find other types of ice cream in this part of Sandpoint.
Everything is within walking distance, and that alone is going to make you happy. If you are coming with a family then this is a spot you want to have on your itinerary. 

Northern Idaho Wine Region
Wine tasting is something many people enjoy, but it is not always easy to find the right spot. Wine tasting is a reality in Sandpoint, and you can head over to the Northern Idaho wine region to find the best wineries in the state.
These are ideal for those who have a picky palate and want to experience something different. The wine tasting here will make you want to come back all the time because of how good the wine is. For wine enthusiasts, this is a must.

The Festival At Sandpoint
This is one of the most celebrated events in the region and tends to attract many people to Sandpoint. The festival brings in popular names when it comes to performances and artists.
You are going to want to be in the region at the start of August to experience this festival in full flow. It tends to last for approximately 10 days and is far different from other festivals. It is authentic, unique, and tends to be entertaining throughout the day.
You will not want to leave once you start to enjoy the festival for all that it has to offer.
Sandpoint Nordic Club
Are you someone in love with skiing, and that is why you want to come to Idaho?
When that is the case, Sandpoint is a great place to be due to the mountainous areas. When you head over to the region, you will want to reach out to the Sandpoint Nordic Club. This is a one-stop option for those who want to go skiing.
It will open up a long list of skiing opportunities during the colder months. This ensures you find the best spots and have a great time.
Ride a Fatbike
Riding a fatbike is something many people don't get to do in their lives.  
If you go near Lake Pend Orielle, you will find fatbikes set up nearby. This is a good way to explore the natural beauty that is all around you with the help of a fatbike. Hop on and enjoy this experience, as it is far different from riding a regular bike.
Just the experience of the bigger wheels will be unique, and something you are going to remember for a long time to come.
It is a unique way to celebrate your time near the lake. 
Bonner County Historical Society & Museum
Northern Idaho has a lot of history, and that is something showcased with passion here at the Bonner County Historical Society & Museum.
If you want to learn about the people who lived here before and how the railroad was built, then it is time to spend your day at the museum. There are historians inside the building that are going to teach you everything there is to know about the region.
It is a great way to set the tone for how your experience goes in Sandpoint. You will get a feel for what the community is all about and what makes it unique.
International Selkirk Loop
The International Selkirk Loop is near the Selkirk mountains and offers a breathtaking display of natural beauty as soon as you walk around.
The joy of being here has to do with how quiet the location is. It allows you to immerse yourself in the nature that is all around you, and they even offer free ferry rides from one place to the next. There are several beautiful hiking trails in the area, and you can take the day out to enjoy them for all that they have to offer.
Final Thoughts
If you take the time to put these things on your to-do list, you will have a great time.
Sandpoint has a lot more to offer than you would initially think. Many people assume there is nothing to do in a small city, but that is the wrong mindset to have. 
Go through this list and enjoy all the beauty that comes along with a place such as this one. It will bring a smile to your face as soon as you start walking around and doing a bit of sightseeing. 
For those who are thinking about spending time in Sandpoint, look at Air Hosting for the perfect rental properties during your stay. It is easier than ever before to find something that is well-kept, well-located, and in line with what you want.
"Wow. This stay made our trip in Cour'de Alene such an amazing experience. Such great communication and help navigating. Amazing, over the moon, hospitality. Awesome space and such a fabulous patio. We loved our stay here and would be sure to stay here again during our next trip."